Revolutionizing Storage and Logistics: VLMs and VSWs
20 Giugno 2023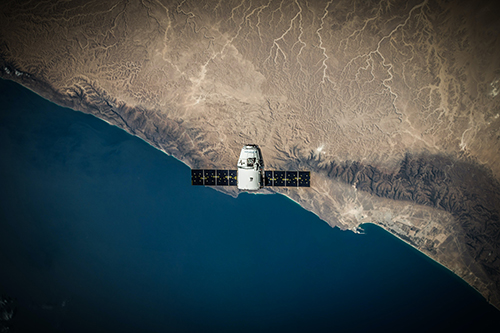 The Evolution and Future of Space Logistics: Unlocking the Potential of Outer Space
24 Luglio 2023
The future of urban logistics
As urban areas continue to evolve, the need for efficient and sustainable logistics systems becomes increasingly critical. The future of urban logistics holds the promise of transforming the way goods are transported, stored, and delivered within cities.
Drone Delivery Revolutionizing Last-Mile Logistics
Logistics companies, vehicle manufacturers, couriers, big food&beverage chains and researchers are all diligently exploring new alternatives for transporting goods within cities and optimizing routes in urban areas. Among the most innovative solutions gaining attention are drones.
Autonomous Drone Delivery
Drones offer precise, autonomous flight from one location to another, with the ability to land accurately, even on moving targets. They provide timely, fast, and eco-friendly delivery services. By bypassing traffic congestion and eliminating reliance on road networks, drones have the potential to revolutionize last-mile delivery.
Major Players and Drone Adoption
Companies such as UPS, Wing, Tesco, and Walmart have been conducting drone delivery experiments for some time now. Drones prove particularly valuable in urban environments, where capturing the third dimension (airspace) becomes crucial in avoiding congestion and expediting deliveries. For instance, Amazon Prime Air envisions smart drones operating alongside flying distribution centers, enabling efficient and rapid deliveries. Realistically, a combination of delivery vehicles and multiple drones could work together, with the vehicles serving as mobile launch and landing platforms for the drones.
Drones Beyond Delivery: Warehousing and Inventory Management
While last-mile drone delivery faces challenges such as battery life, payload limitations, landing infrastructure, and flight regulations, drones are showing significant promise as complements to supply chains and for managing warehouses and inventories.
Warehouse Automation: Drones can be employed to automate shelf-based warehouse systems, improving efficiency and accuracy. They can assist with inventory management, enabling swift stocktaking and reducing the need for human intervention.
Internal Warehouse Transportation: Drones prove to be ideal messengers for navigating large industrial spaces like warehouses, as flight permits are not required. They can quickly transport items within these expansive areas, enhancing operational efficiency.
Autonomous Vehicles
Self-driving vehicles are being developed to streamline last-mile delivery. These vehicles can navigate through urban environments, optimizing routes and minimizing traffic congestion. They have the potential to enhance efficiency while reducing emissions.
Sustainable and Eco-Friendly Practices
With the growing concern for the environment, the future of urban logistics will prioritize sustainability and eco-friendly practices:
Electric and Hybrid Vehicles
To reduce carbon emissions and air pollution, logistics companies are transitioning to electric and hybrid vehicles for transportation within cities. These vehicles offer lower noise levels and zero tailpipe emissions, contributing to cleaner and healthier urban environments.
Green Packaging Solutions
The logistics of the future will embrace eco-friendly packaging materials and practices. This includes the use of recyclable or biodegradable materials, right-sizing packaging to minimize waste, and implementing innovative packaging designs that optimize space utilization during transportation.
Innovative Delivery Services by Domino's
Domino's, the renowned American pizza chain, has been at the forefront of delivery service innovation to combat declining sales. The company has introduced groundbreaking technologies, including the use of Google Maps for delivery optimization.
Pinpoint Delivery
Domino's "Pinpoint Delivery" allows customers to order pizza from virtually anywhere without providing a specific delivery address. Customers need only select the "Domino's Pinpoint Delivery" option on the app and place a "pizza pin" on the desired location within the store's delivery area. The delivery time estimate and instructions for meeting the delivery person are provided once the order is placed.
Other delivery experiments
It's not the company's first attempt to facilitate deliveries to maintain dominance: "Domino's Hotspots" launched in 2018 allowed delivery to outdoor areas such as stadiums, and the recent integration with Apple CarPlay has made ordering pizza easily directly from the car infotainment screen.
Futuristic Delivery Experiments
Domino's has also ventured into futuristic delivery methods, such as using jetpacks during events like the Glastonbury Festival. While these experiments may currently be more publicity-oriented, they highlight the company's ongoing efforts to push the boundaries of innovative delivery services.
The future of urban logistics
The urban logistics of the future hold immense potential for revolutionizing the way goods are transported, stored, and delivered within cities. With advancements in drone technology, autonomous vehicles, and smart warehousing solutions, we can expect enhanced efficiency, reduced carbon footprints, and faster deliveries. As companies like Domino's continue to experiment and pioneer new delivery methods, the future of urban logistics looks promising, reshaping the way we receive goods and services in the ever-evolving urban landscape.
Read the other World Shipping Focus News:
Post 2M. perspectives in container shipping
India as a global hub for logistics and manufacturing
The 2035 ban to endothermic engines in Europe and how it affects Italy's economy and export
The value of Cosmetic industry in Italy and the export forecast for 2023
The New Wave of Container Ships: Bigger and More Sustainable?
The rise and fall of the new Silk Road
Revolutionizing Storage and Logistics: VLMs and VSWs
Sources
https://www.gamberorosso.it/notizie/dominos-consegna-pizza-con-tuta-da-jet/
https://www.forbes.com/sites/forbesbusinesscouncil/2021/09/13/five-ways-to-make-your-delivery-business-more-sustainable/