The future of urban logistics
5 Luglio 2023
The 13 Commercial Water Canals: Opportunities and Threats
4 Agosto 2023
The Evolution and Future of Space Logistics: Unlocking the Potential of Outer Space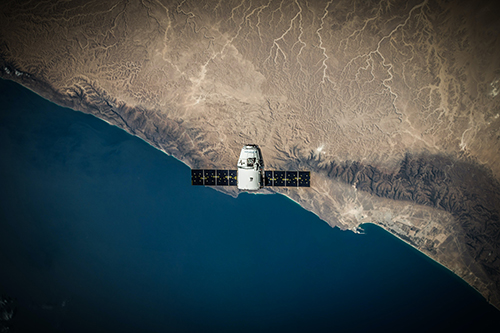 Space logistics, also known as space supply chain management or space transportation, has witnessed remarkable evolution over the years. From the early days of space exploration to the current era of satellite operations and space tourism, the logistics involved in accessing, maneuvering, and maintaining spacecraft in orbit have become increasingly sophisticated. As the demand for space-based activities grows, space logistics is set to play a pivotal role in shaping the future of space exploration and satellite operations.
The Evolution of Space Logistics
The roots of space logistics can be traced back to the historic milestones of space exploration. From Yuri Gagarin's first human spaceflight to Neil Armstrong's moon landing, the early space missions laid the groundwork for understanding the logistics required to access space. Initially, the focus was on launching payloads into orbit, but the challenges of maneuvering and maintaining satellites soon became evident.
As technology advanced, so did the scope of space logistics. The development of reusable rockets and spacecraft, pioneered by companies like SpaceX, brought significant cost savings and increased launch rates. Additionally, the introduction of super heavy, fully reusable launchers further revolutionized the access to space industry, making space missions more affordable and frequent.
The Emergence of In-Orbit Services
In recent years, Euroconsult's 2nd Space Logistics Markets report shed light on the growing need for in-orbit services, aimed at increasing flexibility, sustainability, and safety for satellite operators. These services include access to space, last-mile delivery, satellite life extension, active debris removal, on-orbit assembly and manufacturing, and space situational awareness. Each of these verticals represents a crucial aspect of space logistics, catering to different needs in the rapidly expanding space industry.
With an increasing number of satellites in space, there is a growing need to repair, refuel, and maintain these assets to extend their operational lives. In-orbit servicing missions aim to address this need, leading to the emergence of companies specializing in satellite repair and refueling.
Additionally, as space becomes more crowded with satellites and debris, space traffic management has become a critical aspect of space logistics. Organizations like the U.S. Space Force and the European Space Agency (ESA) are actively working on monitoring and coordinating space activities to avoid collisions and ensure the safe operation of spacecraft.
The Promise of Space-Based Manufacturing and Mining
Beyond traditional space missions, space logistics is also paving the way for space-based manufacturing and mining. The potential to utilize resources from celestial bodies, such as the moon or asteroids, has sparked interest in developing the infrastructure to extract and process these resources in space. Space logistics will play a vital role in enabling the transportation of equipment, materials, and personnel to establish and operate such space-based facilities.
The Rise of Space Sustainability
With the increasing number of satellites in orbit, space sustainability has become a paramount concern. Governments and international organizations recognize the need to promote responsible behavior in space to mitigate debris multiplication and reduce the risk of collisions. The space situational awareness (SSA) market is a significant beneficiary of this focus, and it is expected to generate substantial revenue over the next decade, driven by growing orbital congestion.
Government Role in Market Building
Given the relatively low maturity of many space logistics services, government agencies are expected to play a key role in market building. They can provide financial support for technology development, anchor demand to enable demonstrations and service maturing, and define regulatory frameworks to encourage service adoption and standardization. By nurturing the growth of in-orbit services, governments can ensure the sustainability and safety of space activities.
Even Italy is increasing its efforts by ordering to Avio a Multi-Purpose Green Engine, a "green" liquid propellant engine, for future In-Orbit Servicing and Space Logistics applications, for an amount of approximately 55 million euro. The broad-spectrum objective of the project is the development of a key technology aimed at increasing national capacity also in the field of space logistics issues, for the surveillance of the space environment (Space Situational Awareness) and space traffic management (Space Traffic Management). The Multi-Purpose Green Engine represents a strategic asset for Italy and for Europe in the context of Italian-led projects in ESA programs, strengthening and enhancing the skills of the national industrial chain of the sector, within the programs of future in-orbit servicing and space logistics.
Space mobility and in-orbit servicing
Space mobility is an emerging concept, where the U.S. Space Force is exploring ways to support future military operations with nontraditional space transportation systems and on-orbit logistics. Commercially available space vehicles and logistics services are being tapped to deliver cargo via rockets, deploy satellites to nontraditional orbits, and refuel satellites to extend their operational life.
In-orbit servicing is another critical aspect of the future of space logistics. The ability to refuel and maintain satellites in space will enhance their operational lifespan and reduce the need for costly replacements. Additionally, commercial space travel is gaining traction, with companies like Virgin Galactic investing in reusable spacecraft for suborbital space tourism.
On Earth operations and logistics
Managing space logistics requires several crucial operations on Earth. These operations involve the transportation, handling, and preparation of various components and resources needed for space missions. For example shipping rocket components from manufacturing sites to the launch site is a complex and delicate operation that requires specialized transport and careful handling. Furthermore, space missions require lots of other supplies (sometimes very fragile or unstable) that must arrive to the launch site or materials that have to be moved from the landing point.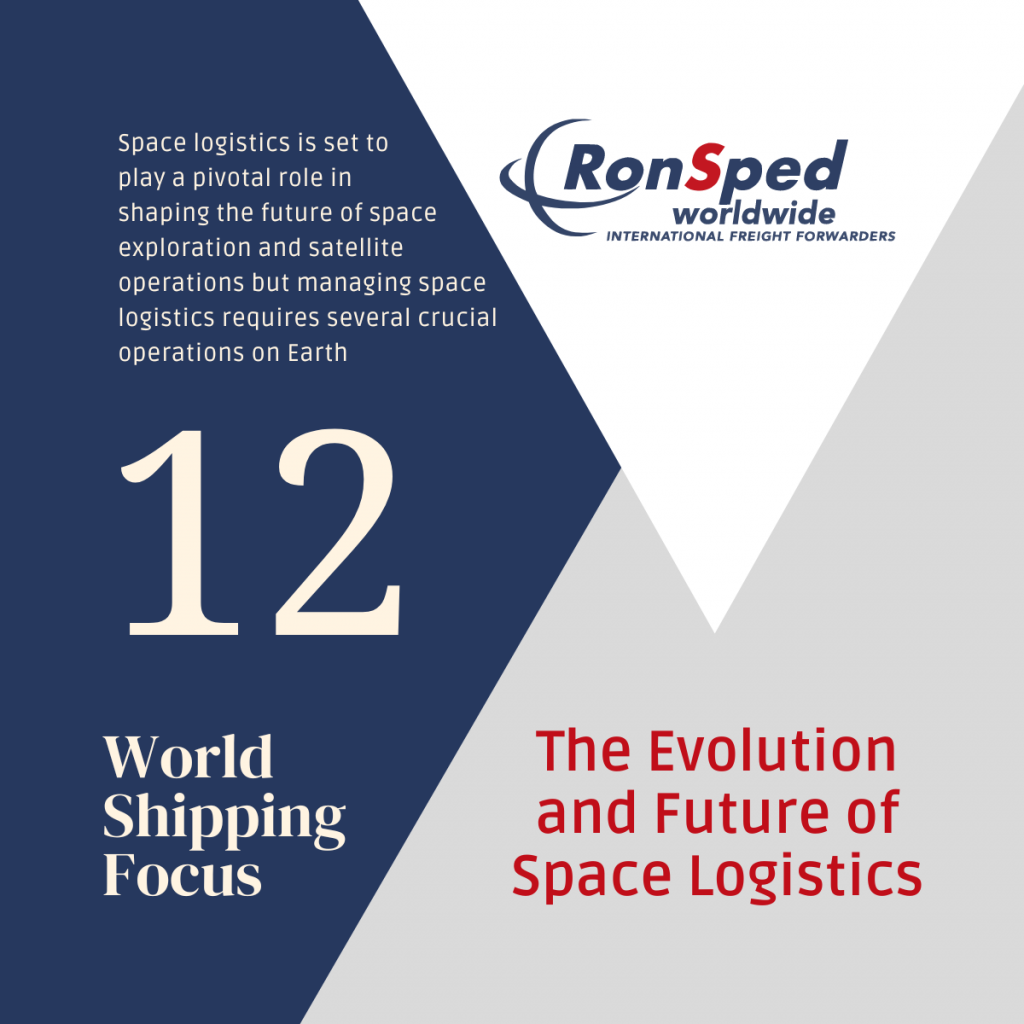 Regional Expansion
North America currently dominates the space logistics market, thanks to the presence of key players and a strong focus on LEO-based satellite services. However, the Asia Pacific region is expected to experience the fastest growth in the forecast period, driven by increased investment in space exploration and commercial activities by countries like India, China, and Japan.
The Future of Space Logistics
The future of space logistics is promising, with numerous opportunities and challenges on the horizon. The global space logistics market is projected to grow at a robust CAGR of 17.19% from 2023 to 2032, reaching a value of USD 20.38 billion by 2032. Key drivers include increasing investments in space exploration and rising demand for LEO-based satellite services.
To the moon and beyond
Space logistics has come a long way since the early days of space exploration, evolving to meet the demands of a complex and competitive orbital environment. The emergence of in-orbit services and the focus on space sustainability highlight the industry's commitment to enhancing flexibility, safety, and sustainability for satellite operators. As governments, private companies, and international organizations collaborate to explore the vast potential of outer space, space logistics will continue to play an integral role in enabling successful space missions and paving the way for humanity's future in the cosmos. With the growing global market and the rapid advancement of technology, space logistics is poised to shape the future of space exploration and satellite operations, ushering in a new era of possibilities for humanity beyond our planet.
Read the other World Shipping Focus News:
Post 2M. perspectives in container shipping
India as a global hub for logistics and manufacturing
The 2035 ban to endothermic engines in Europe and how it affects Italy's economy and export
The value of Cosmetic industry in Italy and the export forecast for 2023
The New Wave of Container Ships: Bigger and More Sustainable?
The rise and fall of the new Silk Road
Revolutionizing Storage and Logistics: VLMs and VSWs
Sources
https://www.asi.it/2023/03/pnrr-asi-assegna-ad-avio-laffidamento-per-la-realizzazione-del-motore-multi-purpose-green-engine/
https://www.axiomspace.com/inspace-infrastructure-and-logistics
https://www.thebrainyinsights.com/report/space-logistics-market-13441